CLOUD contact cEntre
Webinar: building a game changing contact centre
To excel in today's experience economy, your contact centre needs to be at the top of its game. But contact centre agents can't do it alone. Are your systems up to the challenge?
In Partnership with: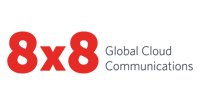 On Wednesday 20th November from 10am to 1040am, Rob Mukherjee of EveryCloud Communications and Tom Croft of 8x8 will show you how cloud-based technology can supercharge your agents and empower them to delight customers with a fast, high quality experience every time.
Join us to learn more about these 8 ways that the right technology can help up your contact centre game:
Boost productivity and improve customer experience through one system of engagement and one system of intelligence, enabling customer queries to be resolved first time and sales calls to be more customer-centric.
Enable agents to connect directly to expert colleagues for live assistance without toggling between systems.
Automatically map complete customer journeys, providing advanced analytics across all customer interaction steps from front office to back office, giving a full spectrum view of performance.
Shed light on where your IVR is performing well and where it is resulting in frustration or abandonment – highlighting opportunities to make adjustments to improve the experience.
Use speech analytics to gain valuable insight into the details of every conversation with your customers, highlighting the most common words or phrases and helping you understand trending topics of conversation and customer satisfaction.
Use historical and real-time reporting and dashboards for all aggregated data to provide a reliable and trustworthy single source of truth.
Remove the need for costly onsite equipment and associated maintenance costs and lessen the burden on your already-strained IT department.
Quickly benefit from all the above, through rapid cloud deployments for any size of business and for any level of complexity.
Hosted by:

Rob Mukherjee
Director Of Transformation - EveryCloud

Tom Croft
Solutions Architect - 8x8